This project appeared in our July 18th, 2003 Newsletter.

Marilyn made a suggestion that we needed a small foot stool in our camper trailer. That got me thinking that it needed to be small and light. As it turns out this stool would be great for a small person sitting next to the campfire or it would look great on the deck with flower pots sitting on it. How every you use it we think it will be a nice addition.

Here's what you'll need:

3/4" X 6" X 7' Cedar
3/4" X 3/4" (true size) X 36" for supports
Nails
Glue
Stain
Here are the dimensions and larger pictures of this project. Just click on the picture below.

(Click)
This project was made using true 1/2" thick wood. If your wood is thicker then adjust the dimensions accordingly.
The top is made from three pieces, (2) 2 1/2" X 14" and (1) 4" X 14". Set your table saw at a 45 degree angle and cut a 1/8" chamfer along both edges of the 4" board and along one edge of each 2 1/2" board.


Glue the boards together with the chamfers facing each other.


Make the legs with (4) 4" X 10" pieces. Cut a 45 degree bevel 1 1/2" in from the bottom edge of each leg half.
Cut the same chamfer as on the top. Align the chamfers and glue the legs together. Make sure they are flush on top so it sits square when all done.
Cut the sides 2 1/2" X 14" with a full 45 degree bevel on each end.
Cut the following 3/4" X 3/4" pieces, (2) 8", (2) 6 1/4" and (4) 1 1/2". These will be used to add strength and make it so we don't have any nails showing on the outside of the stool.
Center, glue and nail the 8" pieces onto the sides.


Align, glue and nail the sides onto the top.
Center, glue and nail the 6 1/4" pieces onto the legs.
Align the legs with the bottom of the 45 degree bevel on the sides, glue and nail them to the top.
Glue and nail the 1 1/2" pieces into the four corners.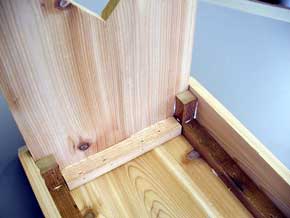 I used a small 1/4" router bit to smooth the corners of the top.
Sand and stain and you're done.
Like we said this is a pretty easy project that gives you a very nice looking stool. Perfect for that fireside chat with your grandchild.

We hope you've enjoyed this project and have good success with it. Remember, if you ever have any problems with our projects just drop us a line and we'll try to help. Since we build every one of these projects we have a pretty good idea of how to get through them. We also make lots of mistakes so we can help avoid them.