What's New This Week? Nothing is new in the world of babies. We are still anxiously awaiting the arrival of our new grandbaby. Jenni just back from the doctors today and he says she is dilated to 4 and it can happen any minute. Her real due date is not until the end of July but the baby seems to have other ideas. The idea is to keep the baby in there as long as possible but Jenni has been in so much pain this time that I'm sure she's ready to bring this little person into the world. They don't know whether it's a boy or girl so it will be a surprise for all of us. My nickel is going to a girl but I've been wrong before. Maybe next week we'll have some exciting new news for you but for now everything is on hold.

Our newest project is rebuilding our dock up at Sandy Point. As we mentioned last week it is pretty dilapidated and really needs help. Since we don't have a ramp to the dock from shore yet all the work will have to be from our dingy or standing on the dock. We'll try to say out of the water but things happen ;-) Hopefully well have some good stories for you next week.
---
DigiTalk
Have you been installing all your Microsoft updates as they come out? There has been another vulnerability discovered in Windows that should be fixed by installing a new patch. Apparently the flaw will allow hackers to gain access to your computer through the Internet. If you use DSL or cable for your hook up and leave your computer on all the time you are at more risk than the computers that are temporarily hooked up through a regular modem. It doesn't matter how you connect to the Internet you should keep your Window's patches current. Just go to the Microsoft web site, www.microsoft.com and select Windows under the Product Families box. Under Products select your version of Windows. Each window from here is a little different so you'll have to look for the Downloads. The next page should give you information on Critical Updates that should be installed in your computer. Just follow the instructions and you should be good to go.
---
SITE OF THE WEEK
Are you planning a vacation this summer? Is it going to be a long one? Are you going to travel far, far away? Well it's always a good idea to check the weather ahead of time so you can be well prepared.
Dave sent us this weeks web site that is very interesting and just might give you some good travel weather tips if you are going to be traveling to Mars. Yep you heard me right, Mars! SpaceWeather.com has science news and information about the Sun-Earth environment. It tells you what the solar winds are going to be, in case you want to do some space wind surfing and the density, in protons/cm3 so you'll have an idea of how full your sails will fill.
There is a ton of interesting information and lots of great links from this site. We hope you enjoy it as much as we have.
Thanks Dave for pointing us to the great beyond, so to speak ;-)
---
MARILYN'S CORNER
Table Cloth Weights
It's picnic time and one of the age old problems is keeping the tablecloth from blowing away in the wind. This weeks project is extremely simple but quite effective.

Here's what you'll need:
Small clothespins
1/4" ribbon
Something heavy to tie onto the ribbon
If your weight has a hole in it a wooden bead works good
Select something that has a little weight to it but not too heavy for the clothespin. We used a small clay pot and a sea shell. The sea shell probably isn't heavy enough for a strong wind but works OK in a gentle breeze.
Thread the ribbon through the spring of the clothespin.
Tie the ribbon to your weight.
For the clay pot we used a wooden bead inside and tied the ribbon in a knot on the other side of the bead.
Now make four to eight more. Clip one on each corner of the tablecloth and one in the middle of each side if the wind is too strong.

That's it! Very simple but effective and looks really cute. Use your imagination.

We hope you enjoy Marilyn's Corner and look forward to all the fun things she brings you each week. If you have a fun project that would be suitable for our newsletter we'd love to share it with our readers. Just contact marilyn@runnerduck.com and we'll do the rest.

Remember we have all of our past projects archived on our web site at www.runnerduck.com. Just click on the Projects or Kids Only Eggs.
---
Baby Summer Sale
With a new grandbaby on the way, what a great time to tell you about a terrific baby sale. The Baby Summer Sale is here! To celebrate the warmest season of the year, we've got cool deals on a huge selection of new-baby must-haves in our Summer Sale Boutique--from car seats and strollers to bedding sets, bath seats, and more.
Just click on the link below.

Click Here
---
The Tempos
News and CD of the Week
We got a little nervous about our up coming job at the McAllister Museum of Flight. There has been forest fires near Yakima which can spread like... well fire. With just one week to go it looks like everything will be OK. The big event will be at the Air show in Yakima, Washington on July 26th. It will be at the McAllister Museum of Flight. Their web site has some great information about the museum including a picture of Charlie McAllister's pilot license signed by Orville Wright, mcallistermuseum.org/index.htm. The dance is from 7:30PM-11:00PM. The band is the famous Seattle group, the "Tempos", a 17 piece pro swing band that has been performing in the Seattle area for over 30 years, playing mainly Glenn Miller style music. There will also be a silent and live auction with Bob Clem as master of ceremonies and auctioneer. Heavy hors d'oeuvres will be provided and adult beverages will be available. Only a limited number of tickets will be sold. This event is primarily a fundraiser for McAllister's. The price of the tickets are $40.00 each and only 200 are planned to be sold. Contact McAllister Museum for tickets. (509)457-4933.
You can check out our summer schedule at the Tempos web site www.thetempos.com/jobs.htm. If you are making plans to visit Seattle this summer try to fit in one of our fun free concerts.
---
Don't forget that The Tempos big swing band is available for hire. If you have a special event that could use the wonderful music of a classic big band be sure to contact thetempos@runnerduck.com.

Boy I tell ya they are dropping like flies. This past week we lost another great musician, Benny Carter. His wonderful sax playing has entertained people for three quarters of a century. Like all great musicians his music will live on but we'll miss the man. Benny was 95 years old.



(Click)
Remember, we have a link on our web site, www.runnerduck.com, to our ever popular Grammy® Shopper site. If you haven't been there yet just click HERE to see all the 2003 Grammy® winners complete with links to purchase any one of them.
---
Questions and Answers
Welcome to our Q&A center.
Got questions? We've got answers.
Got answers? We've got questions.
Q: Sally writes: I am interested in obtaining a cranberry scoop. How can I do this with the one you have shown. Do you just have one or does one buy a kit and make it. What is the size of it? Any assistance you have to offer will be greatly appreciated.
A: We currently do not sell our projects or have kits. The scoop is 13" tall 10" wide and 5" deep. The plans are on our web site to build your own. We are always eager to help with any of our projects. Just go to www.runnerduck.com/cranberry_scoop.htm and take a look at the plans.
---
JOKE OF THE WEEK
This guy was lonely and so he decided life would be more fun if he had a pet. So he went to the pet store and told the owner that he wanted to buy an unusual pet. After some discussion, he finally bought a centipede (100-legged bug), which came in a little white box to use for his house.
He took the box back home, found a good location for the box, and decided he would start off by taking his new pet to the bar to have a drink. So he asked the centipede in the box, "Would you like to go to Frank's with me and have a beer?"
But there was no answer from his new pet.
This bothered him a bit, but he waited a few minutes and then asked him again, "How about going to the bar and having a drink with me?"
But again, there was no answer from his new friend and pet. So he waited a few minutes more, thinking about the situation.
He decided to ask him one more time; this time putting his face up against the centipede's house and shouting, "Hey, in there! Would you like to go to Frank's place and have a drink with me?"
A little voice came out of the box:..
"I heard you the first time! I'm putting on my shoes."
Thanks to The Tempos singer Diane for that little bit of humor!
---
The RunnerDuck web site is hosted by



If you are looking for a great hosting service at a terrific price check them out at www.fastwirenetwork.com. If you mention that you heard about them from RunnerDuck you will get a $5.00 per month "Duck Discount" for as long as you have your account.
---
CONSERVATION TIP
This week we have an expensive yet money saving tip. Our local power company and many others in the country will buy your excess power if you generate it yourself. Our PUD is offering a $525 or more rebate to people who install solar panels to generate electricity. The panels will reduce your electric bill and if you generate enough the power company will pay you for the excess. Of course you have to live in the right area and each power company has different rules but if you live in a real sunny area this might just work for you.
If you have a conservation tip please send it to conservation@runnerduck.com and we'll post it in our newsletter.

THIS WEEK'S FREE RECIPE




Rhubarb Cake

It's about that time of year to start harvesting the Rhubarb and making some great desserts. This is an old recipe from Ken's mom that always hit the spot.
5 Cups cut up Rhubarb
1 Cup Sugar
1 3 oz. package Strawberry Jell-O
3 Cups Miniature Marshmallows
1 Package Yellow or White Cake Mix
Put the Rhubarb in the bottom of a 9" X 13" pan.
Sprinkle on the Sugar.
Then sprinkle on the Strawberry Jell-O.
Cover with Marshmallows.
Mix the cake as directed on the box then pour over the Marshmallows.
Bake at 350 degrees F for 35 to 40 minutes.

Serve it with a big scoop of homemade ice cream and your family will go nuts!

Remember, if you have a recipe you'd like to share please send it to marilyn@runnerduck.com.

Every month we post a new recipe on our web page. Be sure and check out the July recipe at the RunnerDuck Kitchen Store.
We'd be happy to post your favorite recipe there or in our newsletter and give you credit. Just drop a line to marilyn@runnerduck.com.
---
GREAT DEALS FOR RunnerDuck SUBSCRIBERS
We ran this special last week and it will continue until July 21's so place your order this weekend before time runs out. Weeknight cooking is seldom a leisurely experience. By the time you get in the door, it's time to put dinner on the table. With these helpful appliances, your family's meal will be ready in just 30 minutes - they're even quicker than the pizza deliveryman. Use Coupon Code C96395 at checkout. Offer ends 7/21/03.

Click Here
---
COOKBOOK
SUGGESTION OF THE WEEK
We thought we'd give you another week to check out Donna's great E-cookbooks that she just released. One is Chickin Fixins and the other is Chocolate Fixins. Each one has over 120 recipes especially selected from Donna's huge collection of recipes. The amazing thing is that she is selling these great E-cookbooks for only $7.97 each. She's even including her famous "Mr. Picky's Secret Recipe Barbeque Sauce" for free with the chicken cookbook. Click Here or on the books below to go to the Good Fixins web site. Once you are there click on E-cookbooks to order the cookbooks or sign up for her newsletters.
Be sure and visit the RunnerDuck Cookbook Store for other great savings on cookbooks and cooking supplies.
A Small Stool

Marilyn made a suggestion that we needed a small foot stool in our camper trailer. That got me thinking that it needed to be small and light. As it turns out this stool would be great for a small person sitting next to the campfire or it would look great on the deck with flower pots sitting on it. How every you use it we think it will be a nice addition.

Here's what you'll need:

3/4" X 6" X 7' Cedar
3/4" X 3/4" (true size) X 36" for supports
Nails
Glue
Stain
Here are the dimensions and larger pictures of this project. Just click on the picture below.

(Click)
This project was made using true 1/2" thick wood. If your wood is thicker then adjust the dimensions accordingly.
The top is made from three pieces, (2) 2 1/2" X 14" and (1) 4" X 14". Set your table saw at a 45 degree angle and cut a 1/8" chamfer along both edges of the 4" board and along one edge of each 2 1/2" board.


Glue the boards together with the chamfers facing each other.


Make the legs with (4) 4" X 10" pieces. Cut a 45 degree bevel 1 1/2" in from the bottom edge of each leg half.
Cut the same chamfer as on the top. Align the chamfers and glue the legs together. Make sure they are flush on top so it sits square when all done.
Cut the sides 2 1/2" X 14" with a full 45 degree bevel on each end.
Cut the following 3/4" X 3/4" pieces, (2) 8", (2) 6 1/4" and (4) 1 1/2". These will be used to add strength and make it so we don't have any nails showing on the outside of the stool.
Center, glue and nail the 8" pieces onto the sides.


Align, glue and nail the sides onto the top.
Center, glue and nail the 6 1/4" pieces onto the legs.
Align the legs with the bottom of the 45 degree bevel on the sides, glue and nail them to the top.
Glue and nail the 1 1/2" pieces into the four corners.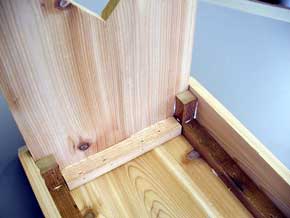 I used a small 1/4" router bit to smooth the corners of the top.
Sand and stain and you're done.
Like we said this is a pretty easy project that gives you a very nice looking stool. Perfect for that fireside chat with your grandchild.

We hope you've enjoyed this project and have good success with it. Remember, if you ever have any problems with our projects just drop us a line and we'll try to help. Since we build every one of these projects we have a pretty good idea of how to get through them. We also make lots of mistakes so we can help avoid them. If you have a project that you would like to share please drop us a line and we'll help get it published in the RunnerDuck review. We are looking for woodworking, gardening, crafts and kids projects so send us your thoughts at projects@runnerduck.com .
---
If you want to talk about something just drop us a line at duckmaster@runnerduck.com any time, we like to talk about most anything. We are always looking for content for our newsletter so if you have something to add we'd love to publish it. Assuming it meets our strict family oriented requirements!

If you forward these newsletters to your friends just drop us a line and we'll do it for you. Just send us their email address and we'll do the rest. Remember, we never share our email list with anyone, period! Just drop me a line or go to our registration page and sign up your friend.

If you enjoyed this newsletter please tell a friend, if you didn't please tell us but in a nice way, we're very sensitive.

To unsubscribe just click HERE. or send an email to unsubscribe@runnerduck.com.

duckmaster@runnerduck.com

All rights reserved, RunnerDuck Productions, 2000, 2001, 2002.
RunnerDuck and its logos are property of
RunnerDuck Productions.
All other logos are property of the individual companies.
We can be contacted at duckmaster@runnerduck.com.