This project appeared in our April 12, 2008 Newsletter.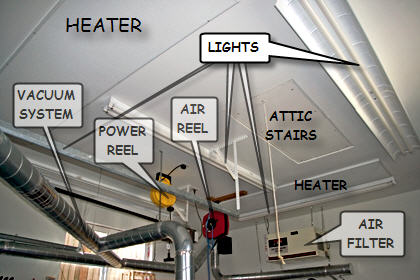 Ceiling Management
"Ceiling Management" may sound like a funny topic but if you are in the process of designing a new wood shop or remodeling an existing one ceiling management can be a big issue, as I recently found out.
I've just completed my wood shop, well completed might not be the right word, I don't think you are every completely done with a wood shop. One of the things I found challenging and put a lot of thought into was the layout of my ceiling, there is a lot going on up there. I have two large 2' X 8' infrared heaters, four 8' double bulb florescent lights, one reel feed power drop, one reel feed air drop, a garage door, a pull down attic ladder, an air filtration box and all the ductwork for my vacuum system. All of this on a 20' X 18' ceiling was a challenge.
I started off with a couple of key items. The air filtration box should be in a specific location to get the most efficiency out of it. It should be located 1/3 the distance of a wall with the intake on the short end. It should be about 18" down from the ceiling and 6" from the wall. This allows for the air stream to create a flow around the room.

JET - AFS-1500, 1300CFM Air Filtration System, 3-Spd, w/ Remote Cntr
Lighting is always important and must be placed for maximum lighting. I ran one fixture widthwise along the back of my shop and three lengthwise. This has worked out very well although because of where I placed my air filtration I do get some shadows.
Next came the heating panels. These infrared panels by Enerjoy www.sshcinc.com/BarNone2.htm are great, they are 2' X 8' X 1". They are white and blend into the ceiling. They maintain my shop at a very comfortable temperature with no air flow or fire hazard. I placed one near the back of my shop, but not above the air filter, and one near the front. Since I don't have my garage door up most of the time this works great.
I had to squeeze the attic pull-down ladder in between the lights. I also needed the ladder to be clear of my benches and machines so placement was critical.
I wanted a reeled power drop and it needed to clear the garage door but also needed to be close to my tablesaw and router. I was able to buy a little space by adjusting how far the garage door opens with the automatic garage door opener. Of course the important thing about power and air is that you have it all installed before the sheetrock goes on.

12-Gauge Electric Cable Reel
The air wasn't quite as critical since the reeled hose was fifty feet long. I also have a couple of other air outlets in the walls of the shop.
The vacuum system turned out to be pretty easy since it was suspended from the ceiling and not strapped directly to it. I just had to keep in mind where the garage door stopped so I didn't get any hangers in the way.
I'm quite pleased with the way it turned out and seems to function well. If you are building or remodling a woodshop be sure to take some time and pay special attention to your "Ceiling Management", it will pay off in the long run.
That's about it. We hope you liked this project. If you build it and your friends ask where you got such a clever idea, please tell them that you got it at RunnerDuck.com.