This project appeared in our June 20th, 2003 Newsletter.
Even though there is lots for the birds to eat this time of year it's still a lot of fun to feed them and watch the different species. If you put out different types of seed you will get different types of birds. Mix it up and see who comes visiting.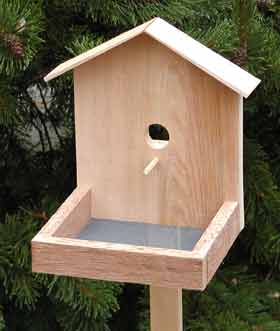 Here's what you'll need:

8" X 10" X 3/4" Cedar
1 1/2" X 20" X 3/4" Cedar
1 Cedar shingle 5" wide or 2 1/4" X 12" X 1/4" Cedar
1/4" X 2" dowel.
Window screen 8" X 7"
1 1/2" X 4' X 3/4" Cedar
1 5/8" #6 deck screws
Cut out the back 8" X 10" with a 30 degree peek for the roof.
Drill a 1 1/4" hole centered 4 1/2" up from the bottom.
Drill a 1/4" hole centered 1/2" bellow the large hole.
Cut two sides 1 1/2" X 6".
Cut the front 1 1/2" X 8".
Cut the two roof pieces 2 1/4" X 5 1/2".
Cut the post 1 1/2" X 4' with a point on one end.
Cut the screen 8" X 7".

Pilot drill and countersink two holes in the back to mount the sides.
Glue and screw the two sides onto the back.
Glue and nail the front piece onto the two side pieces.
Staple the screen to the bottom. Cut any excess off.
Cut the 1/4" dowel to 2" and glue into the 1/4" hole.
Glue and nail the two roof pieces on.
Glue and nail the stake onto the back of the feeder.

That's it! This is a really fun family project that your kids can help with. It's a good opportunity to teach them a little wood working on a simple project.

We hope you've enjoyed this project and have good success with it. Remember, if you ever have any problems with our projects just drop us a line and we'll try to help. Since we build every one of these projects we have a pretty good idea of how to get through them. We also make lots of mistakes so we can help avoid them.