What's New This Week? We thought we'd share some of our Christmas presents with you. While we got a lot of the usual stuff like candy, slippers, a pillow, DVD's and more, we also got a couple of unusual items. Marilyn got a porcelain runner duck. She also got a pair of tiny snow shoes that came in a basket so we just had to put them on the runner duck.


We also got a Little Chief Smoker for smoking all sorts of food. Now we'll be able to make our own smoked cheese and meats. If we stumble onto any great recipes we'll be sure to share them with you.
Camden, our grandson, loved the runner duck toy we made for him. He hasn't quite figured out how to run it yet but I'm sure when he does he'll wear it out. This was one of the projects we featured in our newsletter on November 29th.



All in all it was a great Christmas!

Remember that we will be posting a new Recipe of the Month on our web site this next Wednesday. You can check it our at www.runnerduck.com/rdcook.htm.
---
DigiTalk
Did you get someone a new computer for Christmas? Do they have the foggiest idea what to do with it? Now is a time for patients. If you know a little bit about computers or even if you know a lot you may very well become a source for friends and family to come to for computer help. PLEASE be patient with them and don't talk down to them. You'd be amazed at how little some people really know about the technology. They already know that you have a working knowledge or they wouldn't be coming to you. You don't need to dazzle them with all that you know. Here are a couple of tips that might help when you get that phone call.
Don't try to impress them with your technobabbel! They probably don't know that "memory" is RAM and the hard drive is not.
USB does not stand for "U Stupid Boob". Explain how it works and that it's OK to plug and unplug items from this port without shutting down the computer.
Show them how to set up their screen to a resolution that works best for them, not for you. If all they are doing is getting email maybe they don't need 1600 X 1200 pixels on their desktop.
Help them write things down in a language that they will understand later when you are not there to help. If you write all the notes you'll probably be getting a phone call about the time you get home.
Show them where to get other help. Teach them about the Help pull down menus and how to find help on web pages. Again, the sooner they are on their own the sooner the phone will quit ringing.
Last but not least don't try to do everything in one session. Do a little bit and take a break. After the break have them do what you taught them by themselves. It may take a few trips but hey, it's an opportunity to see a good friend or family member a little more often. Remember, patients is a virtue and a little wouldn't hurt you ;-)
---
SITE OF THE WEEK
How many times have we told you to back up your files and save your work. If you've heard it once you've heard it a million times and when you don't that's about the time that the power goes out, right?
We know it's a pain to go into the file folders to find the files that need to be backed up and then drag them one by one into another folder or onto your CDRW. Well we've been running this little program that does a really nice job of backing up your files. Once you pick the files you want to backup you can name that "Set" and the next time you need to back up those files just select that Set and hit Run. It also has an auto save feature in case you forget.
This program comes from Sweden and it's FREE, our favorite price. Check out My Own Backup (MOB) at http://home4.swipnet.se/~w-42000/MOB/ and start protecting all your hard work.
---
MARILYN'S CORNER
Fruit Jar Hostess Gift
Many of you will be going to New Years Eve parties this week and it's always nice to take a gift to the hostess. This simple but elegant gift will be appreciated by not only the hostess but possibly even the guests.

Here's what you'll need:

Dried or candied fruit.
An air tight jar, 1 quart or bigger.
Some ribbon.
One of the easiest ways to get dried fruit is to go to the bulk bins at your local store. Select several fruits that will look nice together and taste good as well. Here are some suggestions;

Apricots - Dates - Raisins - Crasins
Cherries - Pineapple - Cantaloupe - Papaya
Mango - Oranges - Banana Chips - Coconut Chips
Apple Slices - Walnuts - Pecans

Layer three or four types of fruit in an air tight jar and put the lid on.
Add a ribbon for a festive decoration.

Take it with you to the party and hopefully the hostess will let everyone share in the "fruits of your labor" ;-)

We really hope you enjoy Marilyn's Corner and look forward to all the fun things she brings you each week. If you have a fun project that would be suitable for our newsletter we'd love to share it with our readers. Just contact marilyn@runnerduck.com and we'll do the rest.

Remember we have all of our past projects archived on our web site at www.runnerduck.com. Just click on the Projects or Kids Only Eggs.
---
There are some terrific after Christmas sales going on in the Amazon Toy Store. It's been a tough year and they need to do all they can to make the end of the year look good. Don't miss this opportunity to save up to 80%. Just click on the link below.

---
The Tempos News and CD of the Week
The Tempos big swing band is looking forward to a great new year in 2003. We are already starting to book the year with several concerts in the local area parks and a new job at the Yakima airfield this summer.
Don't forget that The Tempos big swing band is available for hire. If you have a special event that could use the wonderful music of a classic big band be sure to contact The Tempos at thetempos@runnerduck.com.
Toys aren't the only items that are having blow out sales. Check out these great savings on music. You can get CD's with a savings up to 29%. Just click on the link below.
---
JOKE OF THE WEEK
A mild-mannered man was tired of being bossed around by his wife; so he went to a psychiatrist.
The psychiatrist said he needed to build his self-esteem, and so gave him a book on assertiveness, which he read on the way home. He had finished the book by the time he reached his house.
The man stormed into the house and walked up to his wife. Pointing a finger in her face, he said, "From now on, I want you to know that "I" am the man of this house, and my word is law!
I want you to prepare me a gourmet meal tonight, and when I'm finished eating my meal, I expect a sumptuous dessert afterward.
Then, after dinner, you're going to draw me my bath so I can relax.
And, when I'm finished with my bath, guess who's going to dress me and Comb my hair?"
"A funeral director," said his wife.
---
The RunnerDuck Goodies Store
Check out our cool polo shirt at the RunnerDuck Goodies Store. There are lots of other neat RunnerDuck items also.
---
CONSERVATION TIP
We mentioned last week that a lot of people like to read things from a computer on paper rather than the screen. You'll find this to be particularly true of new computer users. Since you are not going to change this trait any time soon do the second best thing, use recycled paper. Buy paper with the highest content of recycled materials like 35% or more. Use this paper for printing all the stuff that you'll read once and then throw away. If you have something important to print then break out the good stuff but save a few trees and use the cheap stuff for the rest. Also remember that you can print on both sides of the paper.
If you have a conservation tip please send it to conservation@runnerduck.com and we'll post it in our newsletter.

THIS WEEK'S FREE RECIPE
Hot Bean Salad
OK, you've made your New Years resolution to try and cut back on some of the calories. Maybe we can help a little with this really wonderful tasting and really nice looking salad.


4 Strips of Bacon
1/2 Cup Sugar
1 Tablespoon Cornstarch
1 teaspoon Salt
1/4 teaspoon Pepper
2/3 Cups Vinegar
1 Can Cut Green Beans
1 Cup Wax Yellow Beans
1 Cup Kidney Beans (drained)
1 Onion, sliced
Cut the Bacon into pieces and fry. Pour off all but 1 Tablespoon of the Bacon grease.
Remove the Bacon and stir in the Sugar, Cornstarch, Salt, Pepper and Vinegar. Cook until it's thick.
Add the Beans and Onion.
Cover and cook until hot.
Sprinkle the Bacon on top.
Remember, if you have a recipe you'd like to share please send it to marilyn@runnerduck.com.
Every month we post a new recipe on our web page. Be sure and check out NEW January recipe this coming Wednesday at the RunnerDuck Kitchen Store.
We'd be happy to post your favorite recipe there or in our newsletter and give you credit. Just drop a line to marilyn@runnerduck.com
---
A SPECIAL DEAL FOR RunnerDuck SUBSCRIBERS

The folks at Cooking.com have got some really wonderful year end sales on cookware. This is an opportunity to make some great additions to your kitchen arsenal.
Get your RunnerDuck savings coupon by clicking on the link below.

---
COOKBOOK
SUGGESTION OF THE WEEK

(click)

Still need a little help getting ready for that New Years Eve party. This cookbook has lots of great holiday tips.
Here's a readers comments on the "Seasons Greetings" cookbook. "I immediately went out and purchased this book after attending a party in which the hostess presented a beautiful and tasty appetizer buffet using eight different recipes from Season's Greetings. The recipes are all eye appealing, delicious and in most cases easy to make. Recipes also include make-ahead tips. I highly recommend it for the beginner as well as the seasoned hostess."

Be sure and visit the RunnerDuck Cookbook Store for other great savings on cookbooks and cooking supplies.
---
The RunnerDuck web site is hosted by



If you are looking for a great hosting service at a terrific price check them out at www.fastwirenetwork.com. If you mention that you heard about them from RunnerDuck you will get a $5.00 per month "Duck Discount" for as long as you have your account.
---
PROJECTS
Toy Pickup Truck
I know it seems a little late for toys but just because Christmas is over doesn't mean that there aren't some little kids out there with birthdays. This would make a great gift for that special child that likes real toys, if you know what I mean. Nothing nicer than a hand made toy.
Because there is a lot to this little project we are going to break it into two weeks. This week we'll build the body and pickup box and next week we'll finish it with the fenders, running boards and wheels.
Here's what you'll need:

1 1/2" dia. X 12" grooved wheels.
3/4" X 3" X 12" Maple or your choice
1/4" X 3" X 8" Maple or your choice
1/4" X 1 1/2" X 12" Poplar or your choice.
3/4" X 1 1/2" X 16" Walnut or your choice.
Here are the photos for this project, PICTURES
Here is the pattern for this project, PATTERN
The pattern is color coded to make it a little easier to see what's going on. The pattern for the running boards and fenders are for reference. You'll use the pickup body to actually make the outline for these.
Cut the bottom for the body 2 1/2" X 7 3/4" X 1/4".
Cut three 3/4" thick pieces for the cab, 2 1/2" X 4 1/2", 2 1/2" X 4 1/2" and 2 1/2" X 2 1/4 '.
Glue the three pieces onto the 1/4" body. Very carefully align the sides and the back of the cab.
While this is drying cut two 1/4" pieces 1 1/8" X 3 1/2" and two pieces 1 1/8" by 1 7/8". These will be the pickup box.
Glue the box together being careful to align all the corners and keep the top flat.


Trace the pattern for the side of the truck onto the glued pieces and cut them out with a band saw.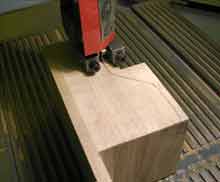 This next step is a little more difficult but trace the top of the truck onto the wood. I used a square to align the front of the pattern with the front of the body since it tapers back a little.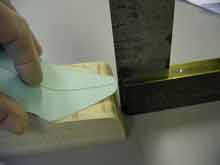 Cut out both sides of the body and sand all the edges round.
Glue and clamp the box onto the truck body.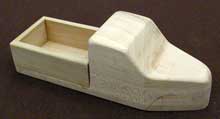 That's enough for this week. Next week the real fun begins and we get to see our completed Pickup Truck.
If you have a project that you would like to share please drop us a line and we'll help get it published in the RunnerDuck review. We are looking for woodworking, gardening, crafts and kids projects so send us your thoughts at projects@runnerduck.com.
---
Until Next Time...
Have a wonderful New Years celebration but take it easy if you are out and about. Designated drivers and cabs are always great alternatives to a ticket or worse. Make 2003 the best year ever. We plan to and hope that you continue to be a part of our little family, now almost 6,000 strong.
---
If you want to talk about something just drop us a line any time, we like to talk about most anything. We are always looking for content for our newsletter so if you have something to add we'd love to publish it. Assuming it meets our strict family oriented requirements!

If you forward these newsletters to your friends just drop us a line and we'll do it for you. Just send us their email address and we'll do the rest. Remember, we never share our email list with anyone, period! Just drop me a line or go to our registration page and sign up your friend.

If you enjoyed this newsletter please tell a friend, if you didn't please tell us but in a nice way, we're very sensitive.

To unsubscribe just click here or send an email to unsubscribe@runnerduck.com.

All rights reserved, RunnerDuck Productions, 2000, 2001, 2002.
RunnerDuck and its logos are property of
RunnerDuck Productions.
All other logos are property of the individual companies.
We can be contacted at duckmaster@runnerduck.com