What's New? We're starting to get the new woodshop whipped into shape. This months wood project is the first thing that I've built since I got things straightened around.
I still have some tweaking to do to get things just the way I want them. I also have a lot of stuff in there that will eventually go away as we get more organized.
Now I need to route a lot more power, insulate the walls, finish the ceiling and put up sheetrock. That will all take some time but it will be wonderful when it's all finished. In the mean time I can make sawdust and that's what's important!
---
DigiTalk
I sure would like to talk about some positive things in this column but I would be remiss if I didn't talk some more about Phishing (Internet fishing). You really need to pay attention to the web sites that you are directed to by email. Emails come in that would make you believe that it's from your bank or PayPal. They contain a link that looks like the real thing. You click on this link and a web page opens up that looks exactly like you banks web page. There is a good possibility that it is not your bank but instead a site that is phishing for your private information like login name, password, social security numbers, account numbers, etc.

What can you do? Well here are a few tips:

Check the web address. If it is https:// then there is a good chance it is the real deal and secure. The "S" after http indicates that it's a secure site.
Look for the little padlock graphic just to the right of the address box at the top of the web page. If it is locked then the site is secure if it is unlocked more than likely it is a bogus, unsecured site.
Look for little things that aren't quite right like PayPal where the "L" in Pal is a "1"(one) and not an L.
If you are unsure about the email that you receive then don't click on the link. Instead open the site in your web browser using your own web page link and not the one in the email. If there is anything important for you to update they will tell you about it once you log in.
Remember these people are bad people and very sneaky. You really need to stay on your toes and pay attention to everything. Don't get lazy and allow someone to empty your bank account or steal your identity!
---
SITE OF THE MONTH
Here's kind of a fun little thing to do. How well does your neighborhood rank as far as being a "Great Neighborhood"?
This web site ranks an address for how easy it is to get to important locations by walking. Of course we all know that walking is good for you and environmentally friendly. The more services you have within walking distance that higher your score.
Even though we are only six blocks from the main street of Coupeville we only scored a 69. That's be cause all the pharmacies, grocery stores, hardware stores, schools and the like are more like a mile away. The waterfront of Coupeville is mostly gift and craft stores.
Just plug in your address at www.walkscore.com and see how walkable your address is.
---
MARILYN'S CORNER
Driftwood Picture Stand

Ken's daughter Jenni gave him a picture of a sail boat a few years ago that is very nice but needed something more to make it extra special. Now that we live a block away from the beach we go there and pick up driftwood. I got the idea to make a picture stand using drift wood.

It's a fun creative project that you could do with almost any materials. This should give you some ideas and then you are on your own.

Here's what I used:
A framed picture
Driftwood
Polyurethane glue (Gorilla Glue)
#4 screws or brads
First I sanded one of the pieces flat to give it a good base.
Next I found a piece that would fit on the front as a lip to keep the picture from sliding. I glued that piece onto the front of the base.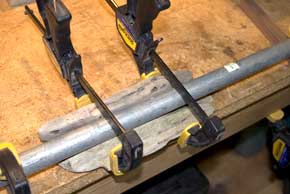 The clamping got a little creative but that's part of the fun.
Now I needed to find a support to keep the picture upright. A small stick served the purpose well. I glued and screwed it to the base.
Set the picture in place and you have a really unique way to display your picture.
Remember we have all of our past projects archived on our web site at www.runnerduck.com. Just click on the Craft Egg.
---
Kids Stuff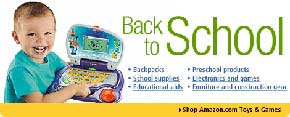 (CLICK)

Oh how the kids dread those famous words unless of course they love school! There are some great buys right now to get all the supplies they will need to give them a good start. Check them out by clicking on the picture above.
---
The Tempos
News and CD of the Week
It's not too late to get The Tempos "Big Swing" CD!
"Big Swing" features fourteen great swing songs from the 40's and 50's. If you love the old big band swing music we think you'll enjoy this CD. It's the kind of music that makes you just want to get up and dance, you do remember how to swing don't you?
The only place you can get this CD is from our web site. Go to www.thetempos.com and click on the "Click Here" at the top of the web page or

CLICK HERE.
We only printed up a thousand of them so get yours before the are all gone!
If you'd like to get a taste of this CD just go to The Tempos web site. When you are at the Tempos web site click on the horn valve button that says "Hear our CD". Then click on the song titles to hear a little bit of each song.
The Tempos big swing band is available for hire. If you have a special event that could use the wonderful music of a classic sixteen piece big band be sure to contact kennyb@runnerduck.com. We perform all over the Seattle area for all sorts of events.
---
Album Pick of the Week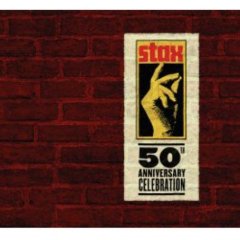 CLICK!
"Stax 50th Anniversary Celebration", 2 CD Box Set
Ah, remember when! Do the words "Blues", "Soul" and "R&B" mean anything to you? Stax records were synonymous with these words. They produced some of the best music of the times. The had artists such as Booker T. & The MG's, Rufus Thomas, Isaac Hayes, Carla Thomas and Otis Redding. Concord Records bought the Stax collection in 2004 and has produced this two CD set that features all these great entertainers and more.
If you loved the great rhythms and words of these old songs you'll love these remastered CD's. The sound is better than ever through the magic of the modern day studios. Add this collection to your collection today!
---
TOOL TIPs

CLICK!
This months tool suggestion came to me as a gift from my son-in-law Matt. He works for a contractor and has his own construction company. He has a pretty good idea of what tools work and what tools don't. When I first got the Saddle Square I didn't think much of it but I've really become attached to it.
They come in different styles like the one shown above which is fixed at 90 degrees for going over an edge to hinged ones like the link above will take you to. They also have some that are angles along the edge for marking out dovetails.
If you don't have one of these handy tools I'd recommend getting one. They improve the accuracy of your projects and you'll find lots of uses for them.
---
RSS News Feeder
One of the best ways to get our newsletter is to have it delivered to your door step. Actually it would be delivered to your desktop!

Right click on top of the XML button and select "Copy Shortcut". In your newsreader create a new channel by pasting the shortcut into your newsreader software.

Or just paste http://www.runnerduck.com/runnerduck.xml into your newsreader.

A good free news reader is Awasu and you can download it at www.awasu.com.

Don't know what this is all about? Check out our little tutorial HERE!
---
---
JOKE OF THE MONTH
These are from Sharon K.

I dialed a number and got the following recording:
"I am not available right now, but Thank you for caring enough to call. I am making some changes in my life. Please leave a message after the Beep. If I do not return your call, You are one of the changes."


~~~~~


Aspire to inspire before you expire.


~~~~~


My wife and I had words, But I didn't get to use mine.


~~~~~


Frustration is trying to find your glasses without your glasses.


~~~~~


Blessed are those who can give without remembering and take without forgetting.


~~~~~


The irony of life is that, by the time you're old enough to know your way around, you're not going anywhere.


~~~~~


God made man before woman so as to give him time to think of an answer for her first question.


~~~~~


I was always taught to respect my elders, but it keeps getting harder to find one.


~~~~~


Every morning is the dawn of a new error.

   THIS WEEK'S FREE RECIPE




Chicken Arabia

This months recipe was sent to us by RunnerDuck reader Norma. We haven't had a chance to make it yet but it sure does sound good.

Ingredients:
Real Butter
Salt
Garlic Salt
Pepper
Parsley
Chicken (cut up fryer)
Line a jelly roll pan with heavy duty foil.
Spray with Pam.
Dot with real butter and sprinkle with salt, garlic salt, pepper, parsley.
Place cut up fryer in the pan.
Repeat the butter, salt, garlic salt, pepper, and parsley.
Bake 350 degrees F about 45 minutes to one hour until chicken is done.
Goes well with rice and peas using the butter from the pan for topping the rice a bit.

Simple and yummy. . . enjoy.

Thank you Norma, we can't wait to try it.

Remember, if you have a recipe you'd like to share please send it to Marilyn@runnerduck.com. We'd be happy to post your favorite recipe on our Kitchen site or in our newsletter and give you credit.

     Every month we post a new recipe on our web page. Be sure and check out the New recipe at the RunnerDuck Kitchen Store.
---
COOKBOOK
SUGGESTION OF THE MONTH
The Classic 1000 Chicken Recipes
by Carolyn Humphries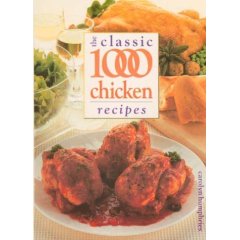 (CLICK)
We're not sure where the name comes from because there are not 1,000 chicken recipes in this cookbook but there are a bunch of really good ones. There are a whole series of "Classic 1000" cookbooks covering everything from Italian and seafood to Chinese and salads. They are really nice little paperback cookbooks that run in the $9.00 to $10.00 range.
Not only are the recipes great but the price is good too!
---
WOOD PROJECT PLANS
DOWNLOADABLE & MAIL-DIRECT
WOODWORKING PLANS
Download WOOD Store® woodworking plans directly to your computer and start building in just minutes! OR, we'll mail them to you, your choice!


CLICK!
---
PROJECTS
Silverware Organizer
This is a pretty simple project but it sure does make things a lot nicer in the kitchen. We just moved into a new house and there were no silverware organizers in the kitchen drawers. We tried one of the universal plastic organizers but it was just too flimsy.
We tried shopping for a prefabricated plastic or wood tray but couldn't find anything that would fit. So I cranked up the table saw and in a couple of hours had one that was just perfect.
I haven't given any dimensions for this project because every drawer is different and everyone has a different way that they want to arrange their silverware.
Here's what we used:
3/16" plywood
Glue
#4 3/8" brass wood screws
First measure the width of the drawer that the organizer is going into. Be very exact with this dimension so it will fit perfect.
Lay out your silverware the way you want it in the drawer and measure the length and width for each pocket.
Measure the depth of the drawer and set the height of your organizer. Don't make it too high or it will make it more difficult to get the silverware out of the drawer.
Mark and cut all the pieces. Keep in mind that there will be dado's for the dividers to fit into so you'll have to add 3/16" to the length of some of the pieces. I mark the pieces on the sides and then transfer the lines to the edges using a saddle square.
Lay out the dado lines where the dividers will go. Mark the width of the dado to make it easier to cut.
Set the tablesaw height to 3/32 or half the thickness of the plywood.
I didn't have a 3/16" wide saw blade so I made a couple of passes for each dado. Cut them carefully so they fit snug.
You should now have a pile of pieces that look something like this.
Apply glue to the dado's, assemble and clamp using scrap pieces of wood under each clamp.
Make sure that everything is square by measuring from corner to corner and then from the opposite corners. The dimension should be exactly the same.
Once the glue dries your organizer should be ready to use.
Put a couple of small flat head screws through the sides to keep the dividers from sliding around.
If you'd like to see this project on the web just go to www.runnerduck.com/silverware_tray/ silverware_org.htm. The pictures are a little bigger and easier to see. Plus you can print the web page to take the project to your shop.
---
If you have a project that you would like to share please send us an email and we'll help get it published in the RunnerDuck review. We are looking for woodworking, gardening, crafts and kids projects so send us your thoughts at kennyb@runnerduck.com.
---
Tell A Friend About The "Duck"
One of the best ways we build our reader base is by good people like you telling your friends about "The "Duck". If you know someone that you think would like our newsletter just
Send This Newsletter To a Friend

Privacy Statement: This information does not go to anyone but the person you entered above. We do not collect any information from this form.
---
     If you want to talk about something just drop us a line to kennyb@runnerduck.com any time, we like to talk about most anything. We are always looking for content for our newsletter so if you have something to add we'd love to publish it. Assuming it meets our strict family oriented requirements!

All rights reserved, RunnerDuck Productions,
2000, 2001, 2002, 2003, 2004, 2005, 2006, 2007
RunnerDuck and its logos are property of
RunnerDuck Productions.
All other logos are property of the individual companies.
We can be contacted at kennyb@runnerduck.com.