What's New? Ken has spent a great deal of time working on our web pages to make them load faster and more user friendly. We hope you like the new look and go there often to see what's new. The home page, www.runnerduck.com, has been shrunk down dramatically. A lot of the things that you might use on a daily basis have been moved to our "QuickLinks" page, www.runnerduck.com/quick_links.htm. On that page you will find a dictionary, phone book, weather, online conversions, greeting cards and much more. I use this page several times a day and think you'll find it useful too. You might want to book mark it in your favorites for easy access.

There's more to come too. Ken is also redoing our wood projects and crafts pages to make them load easier and indexing them so you can find what you are looking for quicker. We hope you like these changes.

Ken's brother Ron has completed another exciting trip to the Mojave Desert. This was his 17th spring break trip to the desert. For some beautiful photographs and an interesting travelogue go to www.blabberon.com and click on "Where I Go" and then "Our 17th Annual". We think you'll enjoy this a lot.
---
DigiTalk
Do you Google? Do you REALLY Google? Searching on the web is the way most of us find what we are looking for. There are a number of different search sites that will get you great results. Yahoo, MSN, Dogpile, AllTheWEB and ASK are just a few. If you can't find what you are looking for with one then use a different one. Dogpile is a really good search site because it uses several different search engines at one time. You can even do a side by side comparison of what the different search sites found. The one thing they don't have are all the little goodies that Google has compiled.

Google Earth is very cool. It's a large download but you can zoom into any place on earth and check it out. They have a great program that you install on your computer that searches all your files so that you can search for things on your own computer at lightening speed. It's called Google Desktop. If you like to shop on the web then Google Froogle will really help.

There's a lot more to explore but it's definitely much more than just a search engine. To have a look at and download many of their neat toys go to Google and click on the "more" button at the top. Don't be afraid to click on any of the icons because each one will take you to a page that explains exactly what the program does. Have fun and happy surfing!
---
SITE OF THE MONTH
Since we're talking about surfing how about some safe surfing. Everybody is scared to death today about opening up an unknown web site only to find that when you opened it there was some suspicious spyware placed into your computer. Here's how it can happen. You go to a search site, type in your search words and hit enter. Up pops millions of links to web sites that might be of interest. You click on the link and you are whisked away to the site. Until that web site loads you really never know what you might find. Now there is a slick piece of software that should make things a lot easier and less risky.
Siteadvisor is a little download that works with Internet Explorer and Firefox. When you install the program you'll notice a little icon beside each search result in your web browser. It will be a green arrow if the site is not know to spam, does not use excessive pop-ups or spyware. A yellow exclamation mark will caution you and a red X will warn you. That in its self is cool but there's more, a lot more. If you mouse over the indicator you'll get a brief description about the site and if there are any known problems. If you click on the icon it will take you to the Siteadvisor site and give you more detailed information.
There is even more to it but you'll have to check out their web site for more details. We just know that we like this little utility and think you'll find it useful too. Just go to www.siteadvisor.com and follow their directions.
---
MARILYN'S CORNER
Bamboo Place Mats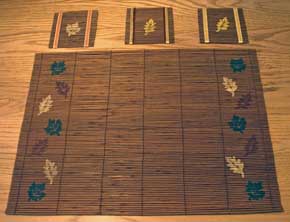 It's really fun making something out of nothing and that's what this weeks project is. We redecorated our bedroom and put up some new bamboo blinds. They were a lot longer than what we needed so we cut them to length and had a lot of material left over. With a little imagination we came up with these cool looking place mats.

Here's what you'll need:
Some left over bamboo blinds
Tacky glue
Clothes pins
Rubber stamps
Acrylic paint
A good pair of heavy duty scissors
Cut the blinds to the width of your table mats using a heavy duty pair of scissors. Do this by applying a piece of tape as a cutting guide. This will keep the bamboo from moving around too much.
For the height you'll want to cut it about 4" to 6" longer than your finished mat. This will give you 2" to 3" of working area on the top and bottom.
Remove the individual bamboo pieces to within 1/2" of your finished size. Tie the loose strings tight up against the bottom and top. Cut off the excess string.
Apply tacky glue and fold over about 1/2" on each side. Hold it in pace with clothes pins until the glue is dry.
Make the coasters the same way. You can add a ribbon to the coasters for a different look.
Add your decoration using rubber stamps and acrylic paints.
We think these look pretty darn nice and will really make a festive dinner setting.
Remember we have all of our past projects archived on our web site at www.runnerduck.com. Just click on the Projects or Kids Only Eggs.
---
Kids Stuff

Click!


Spring into fun with our huge selection of kites, outdoor games, sandbox toys, and slumber bags in our Sports and Outdoor Play Store.
---
The Tempos
News and CD of the Week
The Tempos now have three summer concerts planned for your listening enjoyment. June 4th we'll be the Annual Early Ford Picnic at Bellevue Community College, July 6th at Burien Concerts in the Park and August 27th at the Hiram Chittenden Locks in Ballard, Washington. You can get more detailed information on The Tempos web page www.runnerduck.com/jobs.htm. We hope to see you there!
Check out The Tempos music from our "Swing Set" CD on line! That's right, you can listen to The Tempos anytime just by going to their web site. The music files are MP3's and some are as large as 9 MEG but we think they are well worth the download. If you like traditional old swing music then you will probably enjoy our CD. Just go to www.runnerduck.com/tempos_cd.htm and click on any song title.
The Tempos big swing band is available for hire. If you have a special event that could use the wonderful music of a classic sixteen piece big band be sure to contact kennyb@runnerduck.com. We perform all over the Seattle area for all sorts of events.
---
Album Pick of the Week
"Catching Tales" [DELUXE EDITION]
Jamie Cullum

It's always fun when a young new singer crosses over to some jazz tunes and Jamie does a nice job of it. It's also refreshing to find a singer that has his own style and doesn't sound like he's trying to copy everyone else.

Lee Armstrong from Winterville, North Carolina wrote: "Jamie Cullum's "Catching Tales" builds on the strengths of his previous CD. His piano is free and shines, especially on a tune he penned called "Photograph," "When I look back on my ordinary life, I see so much magic, although I missed it at the time." He wrote "Mind Trick" with his brother Ben. The track has a great classic jazz feel with Cullum's commitment in the vocals coming through loud and clear, "So I put my feelings out to dry, love, one day again I'll have to try." Jamie covers "Catch the Sun" from the Doves' 2000 CD "Lost Souls." His version has a suave sway and then blossoms into the pop chorus, "It never comes, cry in the sand, lost in the fire."
Oldie's mainstay Ruby and the Romantics recorded "Our Day Will Come" and had a monster hit in 1963. Cullum takes this feel-good romantic tune that's been covered by Cher, Bobby Darin, and Tony Joe White among others and gives a shimmering rendition that's perfect for a late night lovers' mix. The set concludes with another song penned with brother Ben, "My Yard," and boasts Cullum's renegade piano mixing & matching with ethereal harmony vocals. "Catching Tales" is another strong set from Jamie Cullum as he pushes the boundaries, but keeps close enough to the old to maintain his fans.
The DVD extra offers a look at the young musician on tour giving background on how he came to pick and write many of the songs. I particularly enjoyed his story of trying to describe his love for "London Skies" to his Brazilian girlfriend. Enjoy!"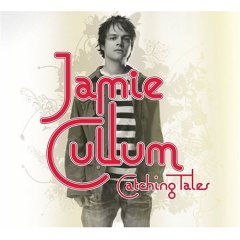 CLICK!
Be sure and visit the RunnerDuck Music Store for great savings on just about anything.
---
CONSERVATION TIP
Spring is here and hopefully April showers will bring May flowers. A good idea is to capture some of those showers into a 55 gallon barrel. We have a plastic barrel we got from our water district that has a faucet at the bottom and a screened cover on top. This lets the water in but not the bugs. Ours is full right now and we'll be using it when the spring rains have gone.
These barrels are easy to set up and really do work. Some people tie them into their down spouts which will really catch a lot of water.
If you have a conservation tip please send it to kennyb at runnerduck.com and we'll post it in our newsletter.
---
RSS News Feeder
One of the best ways to get our newsletter is to have it delivered to your door step. Actually it would be delivered to your desktop!

Highlight the XML link (right click and drag over it), select Copy and paste it into your newsreader.

Or just paste http://www.runnerduck.com/runnerduck.xml into your newsreader.

A good free news reader is Awasu and you can download it at www.awasu.com.

Don't know what this is all about? Check out our little tutorial HERE!
---
JOKE OF THE MONTH
We had a bunch of jokes sent in this month and we loved them all. We chose this one from Annie U-L because of the season.
Rules of the BBQ
It's almost grilling season. Therefore it is important to refresh your memory on the etiquette of this sublime outdoor cooking as it's the only type of cooking a real man will do, probably because there is an element of danger involved.
When a man volunteers to do the BBQ the following chain of events are put into motion:
Routine...
1) The woman buys the food.
2) The woman makes the salad, prepares the vegetables, and makes dessert.
3) The woman prepares the meat for cooking, places it on a tray along with the necessary cooking utensils and sauces, and takes it to the man who is lounging beside the grill - beer in hand.
Here comes the important part:
4) THE MAN PLACES THE MEAT ON THE GRILL!
More routine....
5) The woman goes inside to organize the plates and cutlery.
6) The woman comes out to tell the man that the meat is burning. He thanks her and asks if she will bring another beer while he deals with the situation.
Important again:
7) THE MAN TAKES THE MEAT OFF THE GRILL AND HANDS IT TO THE WOMAN!
More routine....
8) The woman prepares the plates, salad, bread, utensils, napkins, sauces and brings them to the table.
9) After eating, the woman clears the table and does the dishes.
And most important of all:
10) Everyone PRAISES the MAN and THANKS HIM for his cooking efforts.
11) The man asks the woman how she enjoyed "her night off."

THIS WEEK'S FREE RECIPE




Tijuana Coleslaw

May 5th is Cinco de Mayo so we thought a dish with Mayonnaise would be appropriate, but that's not really what it means. For this festive holiday we thought we'd share our Tijuana Coleslaw recipe. It will go really good at your Cinco de Mayo party.
1 Head Cabbage, medium, shredded
2 Carrots, medium, shredded
2 Tablespoons Cilantro, chopped
2/3 Cups Mayonnaise
1/3 Cup Sour Cream
2 Tablespoons Minced Jalapenos
1 teaspoon Chili Powder
1 teaspoon Salt
1 Tablespoon Balsamic Vinegar
1 Small Onion, sliced
1 Small Red Pepper, sliced
Mix all ingredients together
Garnish with Black Olives
Serves 8 - 10

Now get out there and have a great party!

Remember, if you have a recipe you'd like to share please send it to marilyn at runnerduck.com. We'd be happy to post your favorite recipe on our Kitchen site or in our newsletter and give you credit.

Every month we post a new recipe on our web page. Be sure and check out the New recipe at the RunnerDuck Kitchen Store.
---
COOKBOOK
SUGGESTION OF THE MONTH
"The Best of Mexico" (Hardcover)
by Evie Righter

(CLICK)
There's a lot more to Mexican food than margaritas and salsa! This wonderful cookbook explores a wide range of Mexican food.
Frugril from New York City reviewed this cookbook and wrote: "I purchased this cookbook a few weeks back and I've been cooking from it like crazy. I've already made a quarter or so of its forty six recipes. All of them so far have been marvelous and authentic! Each has filled my kitchen with the incredible scents of Mexican cooking like never before!
The pictures alone in this cookbook will captivate you and make you dream of visiting Oaxaca, Tula, Mexico City, Copper Canyon, and the rest of Mexico. Almost every dish sounds enticing to me and the majority of them also contain lovely photos that will make you want to start cooking even more!
Some of the recipes I've tried and would recommend: Spiced Coffee, Huevos Rancheros (topped with the Chili Tomato Sauce recipe), Pork Ribs in Green Sauce, Red Snapper with Tomatoes, Onions and Olives, Arroz Mexicana (with the Chicken Stock recipe), Refried Beans, Fried Plantains with Honey and Cream, and Tacos with Shredded Pork and Chipotles."
---
The RunnerDuck web site is hosted by



If you are looking for a great web hosting service with fantastic support check out www.fastwirenetwork.com. If you mention that you heard about them from RunnerDuck you will get a "Duck Deal". Just ask about your Duck Deal when you sign up.



---
WOOD PROJECT PLANS
DOWNLOADABLE & MAIL-DIRECT
WOODWORKING PLANS

Download WOOD Store® woodworking plans directly to your computer and start building in just minutes! OR, we'll mail them to you, your choice!


CLICK!
---
PROJECTS
Curtain Rod
I was hoping to have a picture of the curtain rod hanging on the wall with a curtain but just plain ran out of time. I'll post a complete picture on our web site in a few weeks.
This project is one of those idea projects where we leave the design up to you. We'll give you the steps we went through to help make your project a little easier and pointing out some of my tips and tricks.
Here's what you'll need:
Wood for the hangers, I used 3/4" Red Oak
7/8" Dowel
Decorative ends
Flat head screws
When I first approached this project I thought I'd use a template and flush router bit to shape the parts. After much effort I decided it was not the way to go. While trying to very carefully route around the corners the router bit grabbed the wood and split the hook off. It also scared the hell out of me.
Next I decided to cut out my hangers on the band saw and sand them. This turned out to be a much better idea.
Lay out your pattern on a piece of wood and cut it out on the band saw. I made two passes cutting out the piece. The first pass was about 1/8" away from my finish cut. This made the second cut much smoother and required less sanding.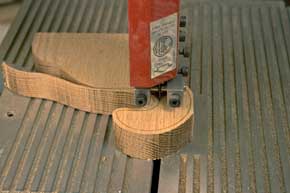 Once I got it cut out I sanded it with sanding drums.

Long Sanding Drums and Sleeves
Next I used a small round over router bit to radius the edges of the hangers.

Notice the vacuum for the router, that was one of our
previous projects in our newsletter from September 24, 2004
Next I made the back for the hanger. Just cut your piece to the size that fits your hangers.
I rounded over the edges using the same round over bit as for the hangers.
Now drill the holes for the screws and mount the hanger to the back.
Mark a line 1" down from the top of the hanger on the back.
Now gang the hangers together using a clamp. Align the hangers along the fence of your table saw and then clamp.


Irwin® Quick-Grip® 6'' Mini Bar Clamp
Mark the rest of the hangers using a square. This makes them all the same and you don't have to measure each one.
I used my handy dandy Incra Precision T-Rule to mark the centers of the hangers.

INCRA Precision T-Rules
To see the rest of this project go to www.runnerduck.com/curtain_rod/curtin_rod.htm.
---
If you have a project that you would like to share please send us an email and we'll help get it published in the RunnerDuck review. We are looking for woodworking, gardening, crafts and kids projects so send us your thoughts at kennyb@runnerduck.com.
---
Tell A Friend About The "Duck"
One of the best ways we build our reader base is by good people like you telling your friends about "The "Duck". If you know someone that you think would like our newsletter just
Send This Newsletter To a Friend

Privacy Statement: This information does not go to anyone but the person you entered above. We do not collect any information from this form.
---
If you want to talk about something just drop us a line to kennyb@runnerduck.com any time, we like to talk about most anything. We are always looking for content for our newsletter so if you have something to add we'd love to publish it. Assuming it meets our strict family oriented requirements!

All rights reserved, RunnerDuck Productions,
2000, 2001, 2002, 2003, 2004, 2005, 2006
RunnerDuck and its logos are property of
RunnerDuck Productions.
All other logos are property of the individual companies.
We can be contacted at kennyb@runnerduck.com.