What's New This Week? Daylight Savings Time is this weekend. Remember to spring forward and change all those clocks ahead one hour. That is unless you live in one of those strange little pockets that never change the time. Indiana has 76 counties that do not change to daylight savings while eleven counties are on Central Time and daylight savings and five counties are on Eastern Time and daylight savings, whew! For more information check out, www.mccsc.edu/time.html#WHAT.
Hawaii for the most part does not observe daylight savings. The state of Arizona does not observe daylight savings except for the Navajo Indian Reservation, which does observe it. The Navajo Nation participates in the Daylight Saving Time policy, due to its large size and location in three states. Daylight Saving Time is observed in Alaska but is not observed in the Aleutian Islands or St. Lawrence Island.
There now go set your clocks and change the batteries in your smoke detectors.
---
DigiTalk
I was talking with my friend Gordy and he was having a hard time loading the software and drivers for his new camera. The first problem was when a warning box opened up during the install that said something like "Microsoft has not tested this software for compatibility. Your system may not function properly if installed." Your options were to abort the install or continue. Gordy aborted and that was the end of that. He decided to try it again but now the installed just wouldn't proceed past a certain point.
Here are two things you might try. Before you install a piece of software check the box or instructions for machine compatibility, i.e. will it run on your version of Windows? If you operating system is not listed go to the software/hardware web site and check for the latest drivers. Install them and you should be good to go.
Secondly, if you know that your software is for your particular operating system then don't bail out when you get that screen but boldly go ahead with the install. Like all computer related stuff some things will work on one machine and won't work on another. These are only suggestions and I take no responsibility if your computer turns into a blender ;-)
---
SITE OF THE WEEK
This week we thought we'd provide a little community service. Poisonings are still one of the greatest killers of children. A lot of people just don't realize how deadly some of those chemicals under the kitchen sink can be. We received an email from the American Assoc. of Poison Control Center's Chris Falk, AAPCC Media Director, telling us of the recently inaugurated new nationwide toll-free poison emergency hotline, 1-800-222-1222. Chris said, "We'd like to make families aware of this resource, as more than 1,000,000 children under six are exposed to poisons each year."
For a bunch of great poison prevention information and much much more just log onto www.1-800-222-1222.info. Of all the different links I found the Poisoning Statistics to be the most sobering.
We'd suggest putting a sticker on your phone with 1-800-222-1222 printed on it so you have it handy just in case the unexpected happens. Thanks Chris for this great information.
---
MARILYN'S CORNER
Place Card/Recipe Card
This project is really simple and it goes along with our woodworking project this week. When you are having family and friends over for that Easter brunch these place cards will really impress them. It will show off your artistic talents and give them something to remember you by.
Here is a list of the things you will need.

3" X 5" note card.
Stamps if you have them or a pen.
Colored Pens.

On the non-lined side of the note card either draw a pretty spring picture or us stamps to make a spring theme.
Color the stamping or drawing with colored pens.
Write the persons name on the card so they will know where to sit.
On the back of the card (lined side) write out the recipe for what is being served.
Place the card into the card holder and place it on the table.
Be sure to tell your guests that they can take the recipe card and flower card holder home with them.

Your guests will be wowed and will remember you every time they make that recipe.

We hope you enjoy Marilyn's Corner and look forward to all the fun things she brings you each week. If you have a fun project that would be suitable for our newsletter we'd love to share it with our readers. Just contact marilyn@runnerduck.com and we'll do the rest.

Remember we have all of our past projects archived on our web site at www.runnerduck.com. Just click on the Projects or Kids Only Eggs.
---
Schwinn Bikes for Every Age
Oh boy, oh boy, Spring is here and it's time to start getting that bicycle in shape. What? You don't have a bicycle? Is your bicycle getting too small for you? Do you need a new bicycle helmet? If this is you or your kids then be sure and check out all the great deals on Schwinn bicycles. Just click on the picture below to enter a world of great bikes.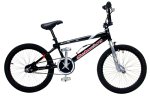 Click Here
---
The Tempos
News and CD of the Week
We got such a kick out of the musician jokes last week that we just had to bring you a few more.
Q: What's the difference between a jet airplane and a trumpet?
A: About three decibels.
Q: What's the latest crime wave in New York City?
A: Drive-by trombone solos.
Q: What's the definition of a minor second interval?
A: Two Soprano Sax players reading off the same part.
Q: What is another term for trombone?
A: A wind driven, manually operated, pitch approximator.
Q: How do you get an oboist to play A flat?
A: Take the batteries out of his electronic tuner.
Q: What is the dynamic range of a bass trombone?
A: On or off.
Q: What's the difference between a SCUD missile and a bad oboist?
A: A bad oboist can kill you.
Q: Why do clarinetists leave their cases on the dashboard?
A: So they can park in the handicapped zones.
Q: What's the difference between an opera singer and a pit bull?
A: Lipstick.
Q: Why do people play trombone?
A: Because they can't move their fingers and read music at the same time.
You can check out our summer schedule at the Tempos web site www.thetempos.com/jobs.htm. If you are making plans to visit Seattle this summer try to fit in one of our fun concerts.
---
Don't forget that The Tempos big swing band is available for hire. If you have a special event that could use the wonderful music of a classic big band be sure to contact thetempos@runnerduck.com.

Once again we want to point you in the direction of a wonderful musician that many of you may not have heard of. Jessica Williams is a fine jazz piano player that has been around for many years.



(Click)


This Northern California pianist released several low-profile but well-regarded records in the '80s and '90s, but thanks to 2002's This Side Up, her profile has expanded beyond an appreciative few (which included Dave Brubeck). Here, Williams follows that trio date with All Alone, a solo effort that is an absorbing look at this amazing post-bop pianist. There is an elegant moodiness throughout that is punctuated by classical flourishes and bluesy trimmings, with gems like "As Time Goes By" (from the movie Casablanca), Irving Berlin's "All Alone," and Ellington's "In a Sentimental Mood" conveying a bluish romanticism that can only come from someone who has been around the block. Williams drops a string of four originals into the middle of the 12-song program, and they are well thought out and expertly rendered. While "The Sheikh" gets downright funky, Williams sounds best when she plays the romantic on tunes such as the original "Bill's Beauty" and the standards. Review by Tad Hendrickson

Remember, we have a link on our web site, www.runnerduck.com, to our ever popular Grammy® Shopper site. If you haven't been there yet just click HERE to see all the 2003 Grammy® winners complete with links to purchase any one of them.
---
Questions and Answers
Welcome to our Q&A center.
Got questions? We've got answers.
Got answers? We've got questions.
Steve in Oregon asked:
Q: We have a 15 duck rule that is currently being broken. Is there anyone offering a good home for a few Runner Ducks?
A: If you are interested in getting more information about Steve's Runner Ducks, Welsh Harlequin ducks or Cochin chicks drop us a line and we'll forward it to Steve.
---
JOKE OF THE WEEK
ETERNAL TRUTHS
Once over the hill, you pick up speed.
I love cooking with wine.
Sometimes I even put it in the food.
Everyone has a photographic memory.
Some just don't have film.
Dogs have owners. Cats have staff.
If the shoe fits…..buy it in every color.
If you're too open minded, your brains will fall out.
If you look like your passport picture, you probably need the trip.
Bills travel through the mail at twice the speed of checks!
Men are from earth. Women are from earth.
Deal with it.
A balanced diet is a cookie in each hand.
Middle age is when broadness of the mind and narrowness of the waist change places.
Opportunities always look bigger going than coming.
Junk is something you've kept for years and throw away three weeks before you need it.
Experience is a wonderful thing.
It enables you to recognize a mistake when you make it again.
By the time you can make ends meet, they move the ends.
Learn from the mistakes of others.
You can't live long enough to make them all yourself.

The RunnerDuck web site is hosted by



If you are looking for a great hosting service at a terrific price check them out at www.fastwirenetwork.com. If you mention that you heard about them from RunnerDuck you will get a $5.00 per month "Duck Discount" for as long as you have your account.
---
Mush Cake

Sounds strange, tastes great! This makes a great breakfast dish when you have company staying over.


1 1/4 Cups Boiling Water
1 Cup Quick Oatmeal
1/2 Cup Salad Oil
1 Cup White Sugar
1 Cup Brown Sugar
2 Eggs
1 teaspoon Vanilla
1 1/2 Cups Sifted Flour
1 teaspoon Soda
1 teaspoon Salt
1 Tablespoon Cinnamon
Pour the boiling water over the Quick Oatmeal
Add Salad Oil, stir well and cool.
Beat together White Sugar, Brown Sugar, Eggs and Vanilla.
Add Flour, Soda, Salt and Cinnamon.
Add the Oatmeal mixture.
Pour into two small loaf pans.
Bake for 35 - 40 minutes at 350 degrees F.

Topping

6 Tablespoons Melted Butter
1 Cup Coconut
2/3 Cup Sugar
1/4 Cup Milk
Mix all the ingredients together.
Spread over the Mush Cakes.
Put under the broiler until bubbly and lightly brown.


Remember, if you have a recipe you'd like to share please send it to marilyn@runnerduck.com.

Every month we post a new recipe on our web page. Be sure and check out the New April recipe at the RunnerDuck Kitchen Store.
We'd be happy to post your favorite recipe there or in our newsletter and give you credit. Just drop a line to marilyn@runnerduck.com.
---
A GREAT DEAL FOR RunnerDuck SUBSCRIBERS
Cooking.com is having their Easter sale. Ease into Easter with old favorites plus new items from our kitchen to yours. Baking a ham or roasting a lamb? We'll equip you with the right tools including a selection of cutlery. And for those cookies and eggs that fill your baskets, our best baking utensils.
For our special RunnerDuck coupon click on the link below.


Click Here for more information.
---
COOKBOOK
SUGGESTION OF THE WEEK

(click)

"The Barefoot Contessa Cookbook" by Ina Garten

We Watch quite a few of the cooking shows on cable and the Barefoot Contessa is really good. While the person running the video camera may make you sick the food is very good. This cookbook has received four stars at Amazon from some pretty tough reviewers. Here's what one person wrote, "The Barefoot Contessa Cookbook was entertaining to read cover to cover. It was easy to read in an hour, and I often caught myself mentally planning to use several recipes and ideas. The side notes are very helpful in making the recipes successful and simple. Most recipes were ones that I would use for special family events and for entertaining. The best cookbook that I've read that includes detailed descriptions in parenthesis with the ingredients listed in the recipe. I enjoyed the forward by Martha Stewart and the intro from Ina Garten. The photos were vivid and personable. The sources are listed for specialty foods also. If you like to cook simple specialty dishes for family or friends, this is a cookbook to read and use. Ina Garten's book is not just your ordinary cookbook."

Be sure and visit the RunnerDuck Cookbook Store for other great savings on cookbooks and cooking supplies.

Spring Place Holder/Recipe Holder

This is a pretty easy project that complements Marilyn's place/recipe card project. The idea is to make lots of these for gifts when people come for brunch or dinner. The holder can be used for table place setting and then later for a recipe card holder.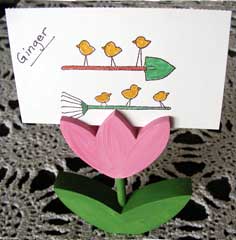 Here's a list of what you'll need;
4" X 2 1/2" full 3/4" stock. We used Maple.
3" X 2 1/2" full 1/2" stock. We used Pine.
1/4" dowel 2 1/4" long.
Wood Glue.
When selecting the wood try to use a heavier wood for the leafy base then for the flower.
Trace the patterns onto the wood and cut them out. You can find the pattern at www.runnerduck.com/images/placecard-holder-pattern.gif or clicking on the picture below.

(Click)
Drill a 1/4" hole in the top of the "V" in the leaves and the bottom of the flower.
Using a small saw or band saw, cut a slit in the top of the flower to hold the card. Make it approximately 1/4" deep.
Paint the flower, leaves and stem. We used acrylic paint.
Glue the dowel between the flower and leaves and you are good to go.
Now make a bunch more, add the place card and set them on the table. These are great gifts and actually work well in the kitchen for holding recipes.
If you have a project that you would like to share please drop us a line and we'll help get it published in the RunnerDuck review. We are looking for woodworking, gardening, crafts and kids projects so send us your thoughts at projects@runnerduck.com .
---
The RunnerDuck Goodies Store
Check out all the great products in the RunnerDuck Goodies Store. Show the world that you love RunnerDuck!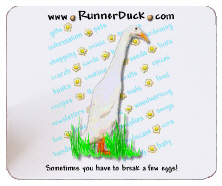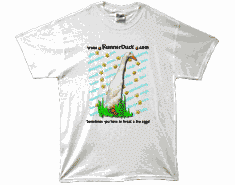 There is lots of other cool stuff at the RunnerDuck Goodies Store.
---
CONSERVATION TIP
This is our annual reminder that helps the birdies in the spring and saves you a little bit of gas or electricity.
After you've washed your close and put them in the dryer, about half way through the dry cycle stop and remove the lint from the lint screen. Restart the dryer and your clothes will dry faster because of better air flow. Now the fun part.
Put the lint that you removed from the dryer on branches of trees. The birds will find it and use it to make a really comfortable nest for the newborns. You'll be killing two bir... no, wait a second. I don't think we want to say that here ;-) You'll be making some new baby birds happy while saving a buck or two.
If you have a conservation tip please send it to conservation@runnerduck.com and we'll post it in our newsletter.
---
If you want to talk about something just drop us a line at duckmaster@runnerduck.com any time, we like to talk about most anything. We are always looking for content for our newsletter so if you have something to add we'd love to publish it. Assuming it meets our strict family oriented requirements!

If you forward these newsletters to your friends just drop us a line and we'll do it for you. Just send us their email address and we'll do the rest. Remember, we never share our email list with anyone, period! Just drop me a line or go to our registration page and sign up your friend.

If you enjoyed this newsletter please tell a friend, if you didn't please tell us but in a nice way, we're very sensitive.

To unsubscribe just click HERE. or send an email to unsubscribe@runnerduck.com.

duckmaster@runnerduck.com

All rights reserved, RunnerDuck Productions, 2000, 2001, 2002.
RunnerDuck and its logos are property of
RunnerDuck Productions.
All other logos are property of the individual companies.
We can be contacted at duckmaster@runnerduck.com.